Due to lack of registrations, MythiCalia 5 (2012) has been cancelled. Since I've now had to cancel MythiCalia two years in a row for similar reasons, and owing to the general stress and grief it has given me over the years with trying to find a suitable site and get people to attend, it is highly unlikely I will ever attempt another gather like this again.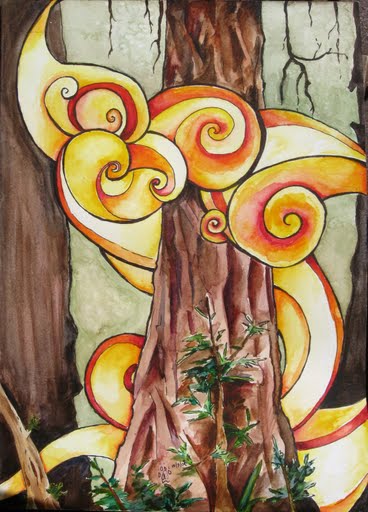 MythiCalia is a gathering for those of elven or faery kind and other mythical, majikal folk. All types of otherkin are welcome, such as elves, faeries, dragons, celestials, Tuatha De Danann, angelics, sidhe, unicorns, etc. We also welcome those who are fey-touched or half-elven; cousin kindreds like therians or starseeds who share the mythic feel and spirit; and mystic human "elf-friends" who are familiar with and friendly to otherkin. Come and be "Other" together!
What do we do? We have a variety of workshops and discussions on topics of interest to otherkin, do energy work, and join in magical rites and spirit journeys. We also do the things you might expect on any camping trip, like sit around the campfire, walk in the woods, play games, look at the night sky, sing songs, and just plain hang out.
Facilities: MythiCalia is a tent-camping only event this year. We are at a "developed" site - piped water, flush toilets, and coin-operated showers - but there are no cabins or kitchen facilities. If you do not own camping equipment, you may be able to borrow from someone else or share with them; join the email list to ask about this.
Food: There is no meal plan. Bring your own food for the weekend and something to share for the Saturday feast. If you are travelling from further away, you may be able to arrange to share with someone else who is coming. Information about nearby grocery stores will be included in the information packet sent out to all attendees.
Registration in advance is required. The fee is $55 per person for Friday-Sunday. Because of the nature of the site arrangements, there is a cap on attendance and particularly on number of cars this year. As of this writing there are still some spots available, so registration has been extended until September 26th.
Vendors from within the community with wares related to otherkin, majik, and mythical "feel" are permitted. This can include jewelry, artwork, handmade clothing, zines/chapbooks, homemade oils and incense, musical recordings... There is no extra fee, but please contact me first if you want to sell something at MythiCalia.

Redwood tree artwork by Faelin; used with permission
Site last updated: Wedneday, September 26th, 2012